The Discovery Centre has a multisensory and soft play room which allows visitors to experience different light, sound and tactile sensations.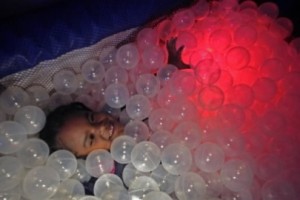 The room is available for use free of charge by all of our visitors it will be of particular interest to visitors of all ages with learning difficulties and physical impairments.
Multisensory rooms have been shown to enhance sensory development (hearing, sight, taste, smell and touch), increase hand/eye coordination, promote language development and encourage relaxation.

Equipment
The room includes the following equipment:
• Fibre-optic wall carpet
• Soft floor and wall protection
• Hoist
• Music play out system
• Interchangeable projector
• Visual and sound touch screen
• Galaxy star projector
• Colour wash wall lighting
Whether you want to give your child a head start in life, support an individual with special needs or simply wind down after a stressful shopping trip, our sensory room is open to you. It can be booked at the reception at the centre Algarve.
"A Sensory Room has been an invaluable resource for us. Our son has special needs so we use the room frequently and I can't begin to tell you how much we appreciate the use of it. On first using this room, our son had very little speech, poor eye contact and struggled with interaction. He also has sensory issues. He loves the lighting. This room has enabled us to gain interaction with him. His eye contact has improved immensely, he learnt his colours which he is intrigued by. Well done and thank you''
Please note the room is currently under design layout construction these photos are not of our room and are for guidance only