As an integral part of staying with us all guests can have an up-close encounter with our collection of Animals. We have provided a selection of Animals to invigorate the senses and to have educational encounter it is something unique, fun and different to brighten the day.
Our Animals have been carefully selected for our programs and we will ensure that they will be suitable for all our guests to interact with.  Animal enclosures have been designed by one of the UK's leading Animal enclosure experts and built with the animal's welfare in mind; you will see that all enclosures have plenty of room and shade. Animal enrichment is key to there welfare and happiness so they have different items to keep them occupied.
Wander though the main paddock along with our Chickens, Peacocks, Doves, Guinea Fowl, Ducks and Miniature Goats enjoy the Potbellied Pigs and Goats in a second secure paddock.
.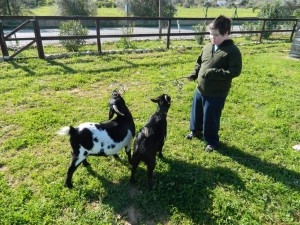 In our petting area we have large variety of Guinea Pigs and Rabbits. Two fish ponds with Turtles, Goldfish, Frogs and a variety of other life. We also have Chickens. Quail Ducks and Geese all producing eggs that can be collected. One of the largest families of Tortoises you will ever see awaits you at Centre Algarve comprising of some 40 family members including mum, dad and offspring from the past 7 years. Several varieties of Squirrel that will not be seen in the UK including tri colour, flying and five stripe. Many of our Parrots have been donated by their former owners.
We would like to offer our sincere thanks to Paradise Wildlife Park in the UK for their invaluable help with the creation of this adorable collection. It is possible for you to sponsor an animal ask at reception.
During your stay make sure you visit our animals and make friends with our ……….
Tortoises, Pot Bellied Pigs, Miniature Goats, Blue Macaw, African Greys, Timothy grey, Alexandrine Parakeet, Sun Conure, Ring Neck Parakeet, Plum head Parakeet, Senegal Parrot, Red Rump Parrot Red-head Conure, Brown Squirrels, Tricolor Squirrels, Chipmunks, Flying Squirrels, Guinea Fowl, Rabbits, Guinea Pigs, Geese, Ducks, Peacocks, Chickens, Golden Pheasants, Yellow Golden Pheasants, Silver Back Pheasants, Reeves Pheasants, Doves, Crested Pigeons, European Eagle Owls, Lovebirds, Cockatiels, Grass Parakeet, Multi-Colored Parakeets, Japanese Quails, Chinese Quails, Budgies, Terrapins, Lots of fish plus get up close and personal with our Meerkats in a lovely purpose built viewing enclosure. We plan to have Wallaby and Alpaca moving in shortly.