Centre Algarve 2017 Event News
Happy New Year from all at Centre Algarve
What a start to the New Year we have had here at Centre Algarve!
We have been awarded the Points of Light Award by the Prime Minister Theresa May, please see the write up below:
Andy Mahoney established Europe's first specialist holiday centre for children with special needs and their families or carers in Portugal.
Andy runs a successful business providing transport to and from schools for disabled children. He was frustrated to see that, while mainstream schools provide travel experiences far and wide for their students, these opportunities are denied to youngsters with special needs, as there are not adequate facilities abroad. He was inspired to set up 'Centre Algarve' in the beautiful Ria Formosa Nature Reserve. The 14-bedroom resort is fully equipped to allow people with special needs, young and old, to experience foreign cultures and adventures in a safe environment.
In a personal letter to Andy, Prime Minister Theresa May said:
"The 'Centre Algarve' you set up is supporting people with special needs and their families to be able to enjoy the experience of visiting a foreign culture in a safe environment.
"Across the world British volunteers like you are helping to build a better world for everyone. The Point of Light award is a small thank you on behalf of the whole country, in recognition of your exceptional service."
Andy said:
"I'm honoured to receive a Points of Light Award. It is recognition not only for me but for all the volunteers and staff that have helped to make the Centre Algarve such a special place. Our aim to develop a safe, secure holiday centre in mainland Europe enabling families, schools and groups with special needs to holiday in the knowledge that they have a safe environment with the facility's they require, has been made possible with the help and dedication of a great management team and over 600 volunteers. The 24×7 Special Needs Holiday Trust, with the help of some very special people, will continue the work of enabling people to have a holiday that they could not normally have.
"To have had so many people involved has been truly inspiring, and on behalf of myself and all of the users of Centre Algarve, both past and future, I would like to extend my gratitude to everyone that has joined in the dream, and made it a reality."
Ambassador to Portugal, Kirsty Hayes, said:
"I'm delighted that Andy's work has been recognised in this way. For over ten years, Andy has been working with special needs children. With the Centre Algarve – the first of its kind in Europe – his inspiration has galvanised the extraordinary support of many volunteers from the Algarve and beyond. It is truly a remarkable initiative and the Prime Minister's Points of Light award is a fitting tribute to Andy's vision and dedication."
Dates for your diary:
Graham Roberts Golf Day – Thursday 27th April 2017 – The Hertfordshire
Gala Dinner – Friday 19th May 2017 – Waltham Abbey Marriott
Osvaldo Ardiles Golf Day – Wednesday 31st May 2017 – Essendon Golf Club
Celebrity Golf Classic – Date and venue to be confirmed soon
To receive information packs and booking forms please email lisa@24x7ltd.co.uk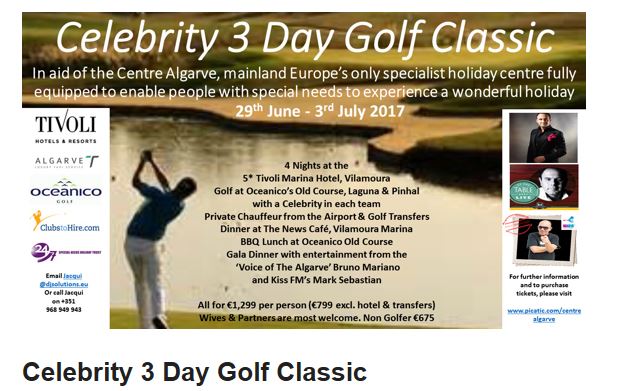 Please find details below of a very elite golfing event in aid of our charity 'The 24×7 Special Needs Holiday Trust' (UK Charity number 1136050).
This spectacular 3-day Celebrity Classic golfing event, is to be held in Vilamoura Portugal from 29th June to 3rd July 2017.
Funds raised from this event will enable under privileged families with special needs or disabled members to experience a memorable overseas holiday together at Europe's first specialist holiday centre in Moncarapacho, Algarve, Portugal.
The holiday centre 'Centre Algarve' has dedicated facilities to ensure a safe and unique family holiday for those who suffer poor mobility or need special requirements. Many of the families who visit are often experiencing their first ever overseas holiday together as a family group and it is a place where many fun and exciting memories are created.
Britain's Prime Minister Theresa May, recently awarded the Centre's founder, Mr Andy Mahoney, The Points of Light Award and in a personal letter to him she described the Centre Algarve as 'supporting people with special needs and their families to be able to enjoy the experience of visiting a foreign culture in a safe environment…helping to build a better world for everyone.'
The golfing event has been organised with great attention to detail and promises to be an exceptional weekend for all and in main to provide financial support to continue the great work of the charity by enabling them to offer more families the opportunity to holiday at the Centre Algarve (www.centrealgarve.org).
The event includes 25 sporting celebrities and comprises of four nights' accommodation at the 5* Tivoli Hotel, which is in a prime location of Vilamoura's picturesque marina and on the frontline of one of Algarve's most beautiful of beaches. We will be playing three fabulous Oceanico golf courses, enjoying traditional Portuguese food in the ambience of a local restaurant, as well as a BBQ lunch at one of the oldest golf courses in the Algarve (rated 3rd in Algarve's top 50 golfing destinations); all nicely rounded off with an impressive Grand Gala dinner. You are most welcome to bring your partners (even if they are non-golfers) as we are sure they will enjoy the facilities available within the hotel, around Vilamoura and of course the opportunity to savour the sunshine and fabulous beaches.
Please feel free to support our charity by forwarding this email to all friends, family and colleagues. However please note places on this exclusive golfing event are limited and booked on a first come, first served basis so we advise you to book early to avoid disappointment.
We are also appealing for donations for the Gala dinner raffle and auction so if you feel you are able to help in any way, require any booking support or for any further information please contact Jacqui via email: jacqui@djsolutions.eu or telephone: +351 968 949 943. Alternatively, bookings and donation information can be found and made directly at www.picatic.com/centrealgarve